Birthdays on a weeknight are a low-key affair in our house. We'll go do something fun this weekend.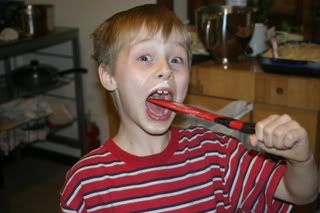 MMMMM Frosting (homemade Cream Cheese)
Papabear's gone all "European" on me and now doesn't like true AMERICAN tub frosting. So, for this one, I added 2/3 box Powdered Sugar, 1 stick butter, pkg of cream cheese, 1 tsp Vanilla, dash of milk. I was told to make it with just a half box of sugar next time and double the vanilla. It was still good!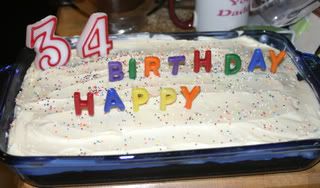 Spice cake. I used my MIL's recipe for extra moist cake. Papa had THREE pieces! Amazing, since he isn't a sweets person.
A Staged "Blowing out of the candles" picture.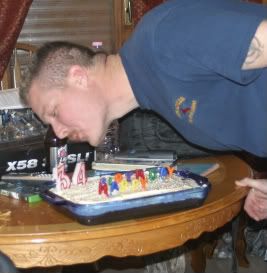 Papabear using his BRAND NEW non-smoker lungs on his birthday cake! Yay!!
This was Littlebear's first cake. All I did was read the directions and supervise. I love it when he asserts himself in the kitchen. I rarely ever find pleasure in cooking. It always just seems like a chore. All that work and it's gone in 15 minutes. Thank goodness I live with two cooks.

I'm getting my butt kicked by a cold this week...so not much else has been going on.
I signed up for a knitting/crocheting social network called "Ravelry" and finally got my invite this week. It would be completely boring to you if I gushed about how excited I am. But, if you're a Raveler, my username is "mundenang". It is so nice to interact with people who you can talk to about knitting (without having to watch their eyes glaze over!!)
Love, Ang