Whew! I finally have some time to blog about the Renfaire. 11Oct08
Kate came up that weekend to collect Sunshine and we decided to "Faire" one last time. For some reason I didn't take many pictures, but here's what I have.
Here's Littlebear with a "Wyld" girl. These are a "clan" of wild people that "lived" outside of society's rules/boundaries and lived by the law of Tooth/Fang. I sincerely doubt that this was a real group, but it makes them happy...so whatevah.


They had a demonstration of a game called "Own The Bone." It's a no-rules brawl to own a thigh bone. (again, whatevah) Littlebear, however, LOVED it and rooted for this lady. As we were walking around he saw her guarding her encampment and went to go talk to her. She painted him up with Wyld tattoos and made him an honorary member of the clan. He was in heaven!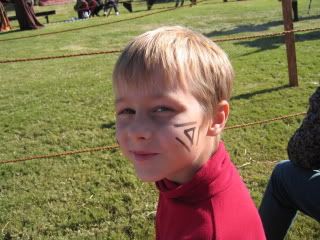 Here's his tattoo. He has another one on the other cheek.
I couldn't get Kate in the stocks this year....but I sic'd an ogre onto her! Muahahha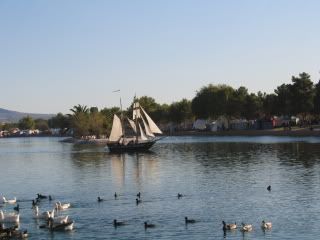 This park has a small lake in the center and every year the pirate clan sails their schooner <----??? around to "plunder" the other coast. Complete with cannons on both sides!
Welllllll that's my pictures. The only other interesting thing was that the Bird Pirate had a cockatoo that was soooooo friendly. I cuddled with her for about five minutes. I even gave Papabear my camera to take a picture. (but he thought I just wanted him to hold it...and didn't snap any. *grrrr*)
Love, Ang
PS *sniffle* I hope there's something like this in Italy.