Wow! What a difference "I'm not going to stress out anymore." makes. I just didn't stress out. The only time I got emotional was when we found out that our Italian Visas came back!
Yay! Now we can leave Vegas as a family.
Here's our plans:
Thrs
-Pugly goes in to be neutered (ouch!)
-Parent/Teacher conference
Fri
-Clean
-Papabear's going away party at the Hofbrauhaus.
Sat/Sun
-Clean
-Take Christmas Card photo
-Order Christmas Cards
Mon
-People are coming to steam-clean the carpets (I have issues with this. It's required for our outprocessing, but we moved in and the carpets were filthy and smelling of cat pee! So, I guess they DO need to be steam cleaned, but I'm chafing that they were so dirty to start with.)
Tues
-Sign out of the house.
Wed
-Fix what needs fixing in the house(if anything)
Thrs
-Thanksgiving
Fri, Sat, Sun, Mon
-Chill
-I'd REALLY like to go through Hoover Dam. I've always meant to. "Well think a little harder, Ang." (That's for you, Daddy.)
-I want to take Littlebear down to the strip and show him the casinos at night. He wanted to see the Mirage's volcano show and the inside of the Luxor. I can't believe we haven't done this already. But, then again, we rarely get down to the strip....or really want to...*laugh*
Tues
-Ship out:
Vegas-Washington DC-Frankfurt-Verona-drive half hour to hotel.
Did I mention that "Yayyyyyyy, I'm freeeeee"
Love, Ang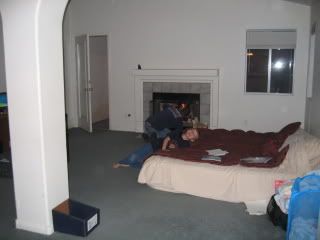 Living in the Front room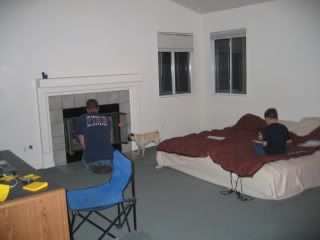 The only furniture in the house. We're going to dump the mattress and desk.