We had so much fun!
After school on Friday, LB and I headed out to the Valley of Fire. (VoF) The camping was great. The fellowship was greater. *Laugh* And the rock climbing was fabulous!! Even I got into the act and climbed up a few. My only grump was that it was still so warm. The sandstone held the heat so, even at night, we were still hot. The plus side is that I sweated my skin clean/clear. I also took the rainfly off the tent to let in the breeze, so I went to sleep staring at the stars! What a treat that was.
Now, On to the photos: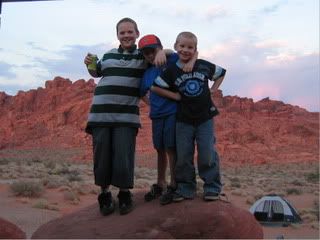 Cameron, Littlebear, and Jacob - Cameron is such a sweet kid. He's Littlebear's adopted big brother. He's so patient with the little ones.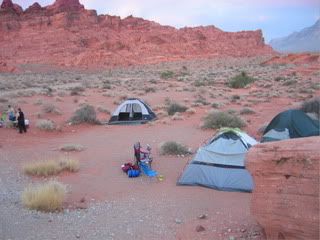 This was our camp. I'm standing up in the pavillion (thank goodness we had relief from the sun.) I think three more families showed up after this picture was taken)
Rock scrambling. If you look about halfway up this rock you'll see L.B. in a bright blue shirt. This was the shortest rock they climbed all over. We were SOOOO lucky nobody cracked their sculls open!
Ranger Dan and the boys looking at petroglyphs. He judges these to be between 900-4000 years old! Amazing!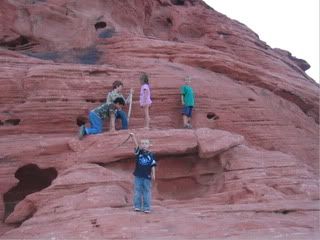 Wild Kids. They LOVED all the scrambling. And BOY did they sleep well too!L.B's in Green on the right.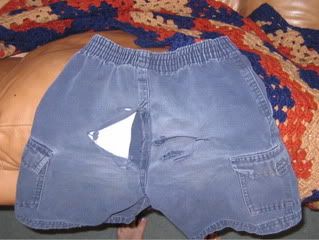 *Laugh* This is what ALL of their pants looked like. I'm suprised their little hands weren't scratched up too!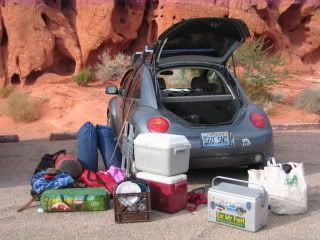 Tony always camps with these little cars. And I'm ALWAYS amazed that he can get all that gear (plus three people) into the car.
And that's it for my VoF pictures. I'm going to have to see if there's a scout group on the big Italian base (1.5 hrs away.) I'd love to have him continue these outings.
Love,
Ang