Littlebear and I went camping with the Boyscouts this weekend.
I was so worried all week about setting up my tent by myself...But, like everything else...the worry was way worse than the situation.
I took a ton of pictures, but I'm only going to post Littlebear pictures. I really should be more careful of other ppl's kids.
This is the view from the door of my tent. This campground is so nice. Lake Mead is so pretty this time of year.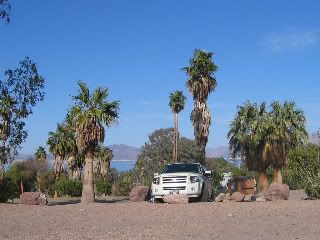 Our Den Leader brought her dogs. Littlebear adored this little French Bulldog. Papabear likes English bulldogs, but I really liked this little guy. He's the right size....no snot....and cute!
We walked down (1.5 miles) to the shore. Here is the actual conversation:
"PLEASE, Mom...can I go swimming?"
"No, Littlebear, it's freezing and I don't want to sleep with someone who smells like lowtide."
"AWWW Mom, you're no fun!!"
This one is the wallpaper on my desktop. I love his little grin.
Friday:
-Pickup LB at 1300
-Arrive at site at 1415ish
-Set up camp....Help other set up camp
-Dinner and Campfire fun.
-2300 Bedtime
-0300 Some drunk wakes me up. (not in our group..lol)
-0430 Coyotes (+20) circle the camp and start howling for about a half hour. (Creepy, but cool!)
-0530 Some yoyo in our group wakes up and lets their kids yell/run through the camp. Even Littlebear told me to yell at them and make them be quiet.
Sat:
-Breakfast
-Set Camp in order
-Go to Visitor Center.
-Learned about Lake Mead and the desert environment.
-The boys were sworn in as "Junior Park Rangers."
-Lunch
-Hike down to the water.
-Free play (all the adults camped out in the shade...kids ran wild)
-Classes
-Dinner
-Campfire songs, jokes, fun, smores
-Bedtime
Sun:
-Breakfast
-Breakdown camp and help others pack up
-Leave no Trace...litter patrol
-Home by 11am
-Showered!!!!!!!
-Nap at Noon
I had so much fun!
love, Ang