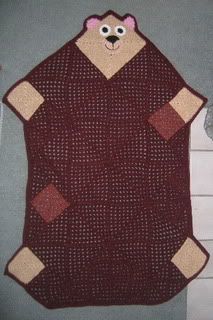 Yarn: Redheart Super Saver and Mystery yarn from my Stash.
Hook size: "H" or 5.0mm
Started:07Mar07 - Finished:15Aug07
This was another project that I was sidetracked from. Putting my WIP (works in progress) on my blog is a very easy way to stay motivated.
I had forgotten how much I liked to Crochet. It's so much easier to keep track of ONE loop. And if I have to drop it, I can without finishing a row.
Littlebear loves it! I figured it's too small for a true afghan, but just the right size to curl up on the couch with or to lie on while playing video games.
Love, Ang