I did convince him to sleep in till 8am....but that's about all his little heart could take. What a HAUL.... He received:
Robe/Digital Kid's camera
Star Wars Video Game/Star Wars Action Figures
A SIGNED copy of Henry Winkler's book "Hank Zipper- Day of the Iguana," 3 Nebraska Tshirts, a Truck Transformer
Horse Figurines, Noah's Arc game, Dinosaur Blocks/Book, Harmonica, A bobble head horse that he thinks is HILARIOUS!
Money (wink wink)
I'm sure I've missed something...but still....what a hoard of toys! Then we took him out to the Adventuredome at Circus Circus. He had a blast! We even bought a caricature of him to mark the occasion.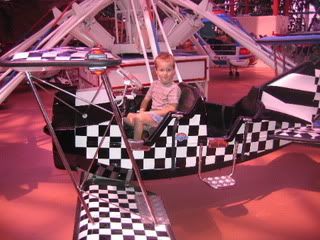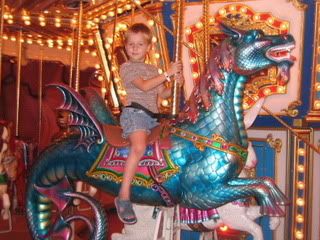 I am such a sap. Before I put him to bed, I had to hug him "at five" one last time and say goodbye to "Five year old Littlebear." Both of the boys think I'm insane...but I'm getting to the point where I know he's going to be our only child. I haven't taken "precautions" for five years...and if it doesn't happen soon....
Anyway...
I'm an emotional sap....so I have to take my moments when they arise. Goodbye babyhood. Hello Kidhood.
Love Ang