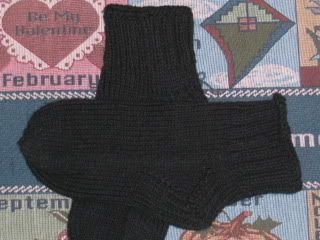 Yarn:Caron Worsted Weight Black
Needle: 3.5mm 60"long (Yes, I know how funny that is to go from metric to US)
Pattern: Basic CH&T
My nephew asked my MIL if I'd knit him a pair of socks. :o) What a compliment! I started them July 7th, 2007 to bring him all the luck in the world! He'll appreciate the significance. I did find out two things while doing this project.
#1 - Never knit a preteen a sock that has more than 6sts per inch. Otherwise they'll outgrow it before you finish knitting it.
#2 - Never knit pure black socks while owning a mostly white cat.
Love, Ang