There's always one thing that's constant: Even with a move, I craft.
Socks are a wonderfully portable big project. They take alot of stiches for such a little space. This German yarn was just languishing in my stash because I was too scared to use "the good stuff." Thankfully I put on my big-girl panties and brought three skeins over to work with. I can't believe I waited so long! These are awesome! So warm and soft. (p.s. these are two pairs...not two mis-matched socks. It's hard to see in the photo)
Papabear wants a ski set. The mere thought of making size 11 knee-high socks is terrifying, but I'll just pull the panties up a little higher and try. At least I talked him out of solid black socks. I doubt I'd be able to see after that fiasco.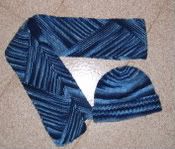 Little bear came over without a hat (he's already lost two sets of gloves) so I decided to buy some Redheart yarn at the BX (gag) and knit up this hat/scarf duo. I liked the scarf so much that I took it from him. We'll see how long this set lasts.
My next project was an incence burner. Littlebear and I checked out a book on Salt dough and have been making/baking little figures up. It's so simple! (2c flour, 1c salt, and some water.)
My last project is an envelope for my Italian dictionary. My German one was mangled by tossing/carrying it in a purse all the time. I feel better when my books are neat. Besides, it was a good excuse to crochet.


Are you diggin' the Loaner Furniture pattern? I do have to admit though...the chairs are comfy. And it sure beats sitting on the floor!


Anyway, that's all of my crafting. I'm about to cast on that last pair of socks.
Funny thing is...the great German sock yarn is made here in Italy. Do you think I can find it here? Nope, not yet. I guess Italians aren't big knitters. Papabear says that Ramstein is only 6hrs away...he promises a
yarn spending spree
road trip soon.
See you later gator,
Ang