Pugly came home after getting "snipped" and is totally lovin' the babying. Poor little guy is shaking and not having fun. Thank goodness he's all doped up. :o(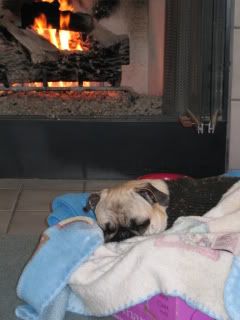 Trying to get warm by the fire, using Littlebear's blanket, and wearing a sweater.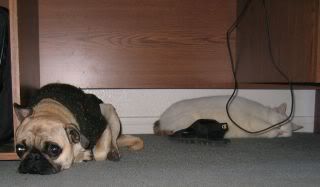 "And the lion shall lie down with the lamb…" Patches ALLOWING Pugly to share her square footage. I think she can sense he's not a threat.

Love, Ang
Whew! I'm so glad that we got him neutered here instead of Italy. I know Italian vets are competent, but I did not want to pay Euro (1.5 to the dollar) prices for it.