Wow....the waiting is over. I'll have to blog daily from now on. Life is moving fast!
-Last day of work/going away party :o(
I've had a hard week so far. Last Thurs was my going away party. It's almost a physical ache, after I drop LB off at school to turn right (Right) instead of left (Library)
Look what they gave me as a going away present!!!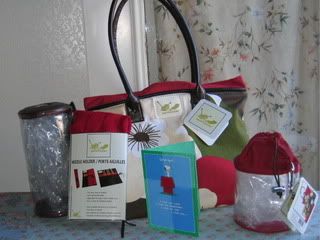 I've always wanted these, but never splurged on myself. *Sigh* I didn't realize how much I loved those people....till I left. :o(
-Littlebear went to a chucky cheese birthday party on Sat. We had unused tokens, so I decided to make it a priority. LOL two birds...one stone. He had fun. I had a headache. (laugh)
(Insert pictures here!)
-Pugly went to the vet last Thrs and was chipped, vaccinated, but no snip snip. Papabear told me that he was fantastic with the waiting room and the vet. Yay! I need to get him snipped before we leave. I'll call this week.
-As for the leash/pottytraining.....he's fantastic!! No accidents in the house and the walks just keep getting better and better. I took him out for a run with me on the bike. He LOVES it. His gait is quicker than mine and I feel that I'm always holding him back when we walk. So to take him for a run was so much fun for the both of us. He GLOWED after we were done.
-Littlebear had poop patrol this weekend. He was NOT happy. But *shrug* it's part of the price for those sweet little dog kisses.
Whew! I'm caught up...I'll add photos later.
Love, Ang