I finished a few projects this weekend.
1. Since Kate came up to take my bird home, I "freshened" up the small cage's seed guard with new elastic. (The seed guard is like an apron that keeps the seeds/poo inside the bars.)
2. I (FINALLY) completed that feather and fan shawl. I enjoyed the challenge of making it and enjoyed giving it to Kate even more!!!
It was a stashbuster project. I wanted to work the feather and fan pattern, so I just grabbed matching yarn from my stash. (Don't ask why I had so much purple in my stash...*laugh) I'd love to make this same pattern with some NICE NICE yarn. I have so many Redheart yarn shawls already. It would be nice to own a really nice one.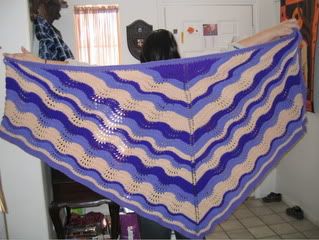 Kate modeling her shawl.
3 I also finished a dog cape for Pugly. The same pattern will make a true dog shirt. I'm going to make one out of fleece material. He's already shirking from the cold wind. In a month he'll really get cold.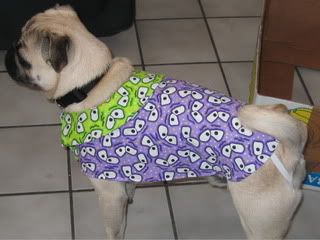 This is a totally reversable cape. The other side is Green with a purple collar. I wanted something for him to wear on Halloween. The boys veto'd my little witches fabric as "too girly" (Ang rolls eyes!)
*Sigh* Well I'm all done with my knitting supplies. I packed away all my yarn/needles/accessories. I did save a few balls of cotton for knitting dishclothes. I'll go insane if I don't have SOMETHING to knit.
I'm going to stitch up that jacket and then pack away my sewing supplies. Papa believes we'll have orders by Tues...and then the movers come. GAH!!!
Love, Ang