What an insane week! Where to start?
Last Saturday Papabear FINALLY had a day off; so we took him to Kung Fu. Littlebear did more showing off than Fu-ing. I feel bad that Papa misses out on so many things.
Then...
Papabear "won" a Camper off of ebay. So last Thursday we headed down to San Diego to pick it up. I love road trips. (And now I know it's not THAT far to Sea World. Littlebear wants to see Shamu in the worse way.) We've been looking at campers for about two years now. A few deals fell through after we had our hearts set on them so I'm glad we're finally done looking.
Outside of Camper
(Yes, I know it's massive! Papa says it's 32 feet)
We decided to go with a toy hauler because we wanted the option of taking the quads with us. And (worse case scenario) we can use it as an enclosed trailer if we ever move or have to haul something.
Here's the inside. There's a Queen Bed in front. A pull down Queen in the cargo area. The couch and the dinette both turn into beds. And it has a SHOWER!! Yay!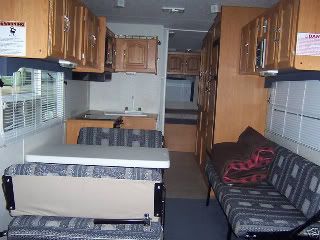 We still need to clean it out (it's very clean....but it needs a good wiping down, mopping and Febreezing.) Then we're going to load it up and take it out! Papa's going to try and get time off so that we can roadtrip it to our Family Reunion in June.
Oh! And I almost forgot....Littlebear....or should I say "Gummy" Bear.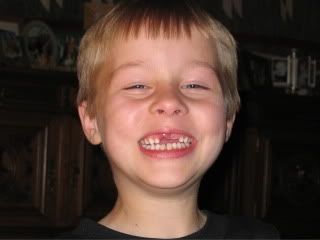 Love, Ang
PS This kid is going to break my bank with all these teeth!