Hey everyone,
I've just been plugging along. And although lots of things are happening, none of them are really worthy of a blogpost. So I'll just "touch base" with youze guyz.
This week is Nevada reading week. So LB has met a few authors. Gary Hogg came to his school. He read an excerpt and signed books for the kids.
I also took LB to the library to meet a local author. Shelley Mahajan. LB and a couple teenagers were the only people at the booksigning. She's a new author and the library didn't do a GREAT job of promoting her. *Gasp* (I know, I'm turning against my own.) She was so warm, gracious, and excited that I'm glad we had her all to ourselves. LB has always been a sucker for a pretty woman. He LOVED it. There are a few more local authors on the books to visit us. I'm going to try and visit each one. Who knows, in 10 years they could be the next Dr. Seuss.
http://www.bandarthemonkey.com/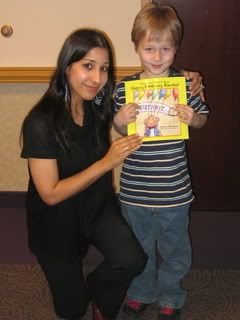 We've been looking for an "outlet" for LB's energy. I refuse to consider medication. He has an A/B average in school, so I KNOW he's not ADHD. So I think it's just normal boy-ness with a bit of hyperactivity thrown in. Papabear came home last week and said "Hey, my boss has his kid in a Kung Fu class on base. Why don't you check it out?" So we went and sat through the class. I am so impressed with the loving/strict manner in which he conducts his class. He demands respect/obedience from these kids....but you can tell that he absolutely loves each of them. What really impressed me is that at the end of class he calls the highest ranked boy up...they bow and then hug. Then he calls the second and the second hugs the master and then the head boy. And this continues till every boy has passed through the line. What a great way to end a class and to create a "brotherly" atmosphere. He also pairs up new kids with an "older brother." I like that. The only doubt I have is that LB will use his Kungfu at school. But the Shrfu told me that if it becomes a problem that
HE WILL
deal with it. I'll keep you posted.
We also have our indoor garden up. I bought two window boxes and put strawberries in one for LB and Geraniums in the other for me. I love looking at that corner and seeing all my plants. I miss green. LOL we were looking at pictures of Germany the other night and I couldn't believe how GREEN everything was.
We were sick for a week (Presidents weekend) and we're now starting to feel better. I've been feeling bloated and icky for a while. So I've been researching fasts to "clean" me out. If you've ever fasted (the one I'm looking at uses juice...so don't think I'm going to end up dead in a week.) I would love to hear your thoughts. (either positive or negative) There are two health-conscience people at work that I've consulted...and I really believe I would benefit from this.
In a continual fight against my yarn stash, I've come across knitted kids hats. I really like the ease (I can watch TV and do this) that they knit up. I'm thinking of finishing a box and giving them to the local Homeless shelter or Battered Woman's shelter. They won't need them till next year (It's 74 here today) so that will give me enough time to knit up a decent stash.
Still love my job.
I'll blog a picture of LB at Kung Fu tomorrow (I've promised him a picnic/park time after class.)
Love, Ang
PS Sorry for not keeping up like I should. This one's a tough resolution.