LOL Say that five times....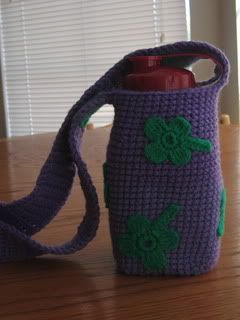 I bought this great water bottle a few weeks ago. I love it because the mouth is large enough to fill with ice right from the ice machine. The only bad part is that its hard to carry since there's no handle. So, like any crafty grrrrrrlll I made a sling for it. I grabbed the leftover Redheart Supersaver Purple from that Celtic Sweater and crocheted this little number up. Then I needlefelted seven four-leaf clovers right onto it.
I wasn't sure that it'd felt. Both of these yarns are acrylic..but it feels firm. I'll see how it "wears." I can always machine sew them on if they fall off.
I've had alot of fun needlefelting lately. I've made a few hair barrettes. I'm not proud of them enough to dedicate a blog post to them, but I'm getting better. The design is my initials in black yarn.
Love, Ang
PS I'm still working on my backwards list....its alot harder than it seemed at one am. LOL