Oh! what a wonderful day to go to Venice. It was almost cold! Thank goodness I ignored Papabear and brought a sweater. Lots of pictures....lets get to them!
This was the 5th attempt to see Venice. A few times Papa had to go into work...a few more were OMGosh hot...and the last one was my goof up. The lack of tourists and cool weather were well worth the wait.
VENICE!!!


I'm not sure what this cathedral is. We didn't get over to it. I wanted to include it to show you how close they build to the water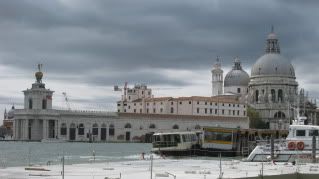 Another one we didn't get to...Next time!!


The Balcony at Saint Mark's (Imagine all the words that have been said from it)


Saint Mark's Cathedral. I've been waiting for 20 years to see this!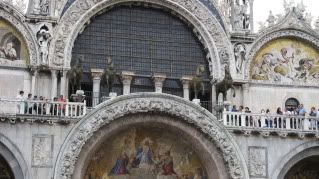 The Famous Bronze horses of Saint Marks (these are copies)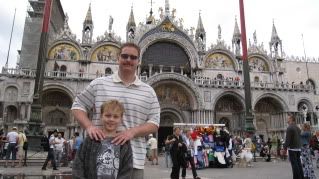 I should have taken one of all three of us, but I was too scared to give my camera to someone. I worried about getting it back.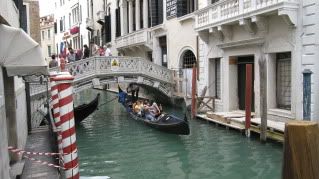 It is AMAZING that they can move these boats around and not thunk into walls/each other!!


Littlebear found a Jellyfish in the canal. He was so excited and talked about it all day. (So, of course, I had to include it)


Detailed crop of above picture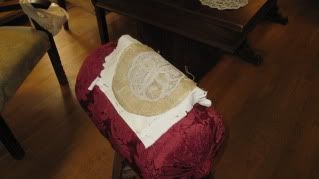 Handmade lace with a NEEDLE and THREAD. I like to think I'm pretty artsy...until I see a true craftsman. I wanted to buy this guy's lace so bad...but the price was wayyyy out of my pricerange. So I took pictures and shook his hand. LOL I'm sure he would have prefered a sale over a handshake. *grin*


handmade bobbin lace...ugh! A migrane waiting to happen. Just looking at the pattern (darker colored thread) gives me a headache.


Littlebear loves watching artists work their craft (*sniffle* he's going to make some crafter a wonderful husband!!) So I had to take a picture of him with this pizza maker.


Cyborg masks...sooooo cool!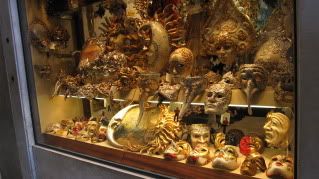 Masks! As soon as the tourists go away (and the prices are slashed in half) we're going to buy masks for Carnivale. Next year I hope Kate and Steph will be out here so we can go. *tingle of excitement*


I love the little details of European cities.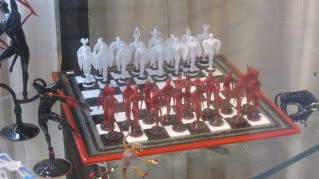 Isn't this the coolest!? It's a hand blown glass Angels & Demons chess set. Retails at 1800euros (2400 dollars)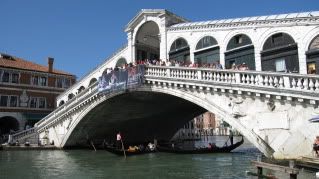 The Realto Bridge over the Grand Canal. The stone on it is glass smooth from all the tourist hands that have touched it. So beautiful. My pictures don't do Venice justice.


The Grand Canal after all the tourists/business men have gone home. We had coffee in that little cafe to the left. (By the red geraniums)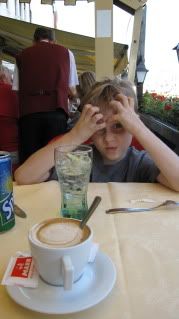 A crabby kid and a cappuchino. MMMM! Life is good.


My Best Friend!!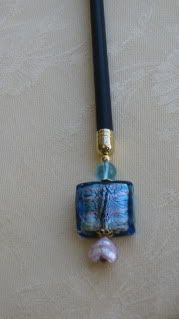 I did find a hairstick there. I think next time we'll go to the glass making island (Murano) and I'm going to get a pure glass one. And some loose beads for...you know.....*blush* crafting


I loved Venice. It IS dirty and touristy...but I love the vibe of it. We saw origional
Tintorettos
so close you could touch them. In the states, you'd NEVER get that close to a true master's work. It would all be behind a velvet rope. I'm so glad I took a Art History course in college before coming here. It's amazing to see these works in person. They are so beautiful and LARGE. Pictures in a book don't do them justice. You MUST see them in their origional settings. Come over and I'll show you! *wink*
Love, Ang