Wow, Has it really been a year!?!?!
Now that the holiday fog has lifted, (gosh I dislike Dec) I'm getting back to the real me.
1. Here's a picture of Littlebear mailing Santa his FIRST letter. My MIL kept it for me and gave it back. I'm going to save it and Santa's reply for when he's older.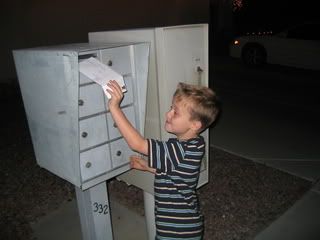 Littlebear writes:
Dear Santa,

How are you? I have been very good this year. Would you please bring me an XBOX360? Plus a few games to play with it? Thank you. Love, Littlebear
Santa writes:
Dear Littlebear,
Thanks for your nice letter! Mrs Claus and I are doing fine. Rudolph had a little cold earlier, but he's much better now.
Did you have fun on the boat? I've been promising Mrs. Claus we'd go on a boat ride next July. Write me a letter and tell me what you liked most about the ocean.
Enjoy your gift. And remember to stay on the "Nice" list.
Love, Santa
2. I also knitted up another Multi directional Scarf/Hat set for my Office party. I'm not sure if it went over real well....LOL but I had fun making it out of the buttery soft yarn. Oh well....It'll eventually end up with someone who'll love it. (Maybe via the thrift shop)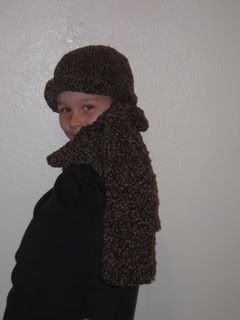 3. We did survive our cruise. I have lots of pictures (And I'm waiting to see if my MIL has better pictures.) So as soon as I get them, I'll blog. Actually, I'll blog....then add the pictures later. Otherwise I may not get around to it till Nov 08.
4. I think that's it. I'm crafting my New Year's Resolutions tonight. I'll post them for posterity (or for a good laugh next December.) I can't believe I've kept my vegetarian resolution for two whole years! It's about a year and a half longer than I thought I could do it.
Happy New Year....be safe.
Love, Ang