LOL Life has shifted into overdrive. Wow! Thursday LB's class went to the Farm Festival. It's kinda like a Rodeo/4H/State Fair exhibit for city kids.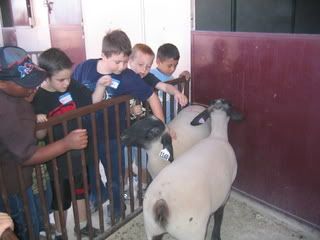 Somehow the stars aligned and Papabear was able to get off and come with us. The teacher was so thankful!!
Between us we had 7 kids to look after. That's enough to let me know that I am NOT cut from Teacher Cloth. LOL....I'll stick with being a librarian. I used to entertain dreams of Childcare/Teachering....not anymore. I now know that I don't have the patience for it.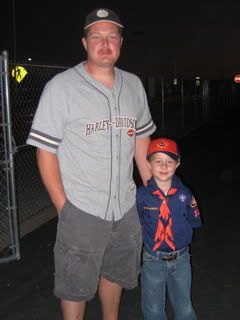 We came home and napped....then off to LB's 1st Cubscout meeting. One of the older scout's dad brought a homemade hovercraft. All these little boys were in HEAVEN!!!
I'm so happy that I got him into scouts. He REALLY needed "boy time" and this enforces the behavior traits that I want in him. (without me having to harp all the time about them)
Tomorrow (Sat) we have a "Go See It" at a Pick your own produce farm. It's not too far from out house....thankfully Maggie will get us right to the front door!
Well, I'm off to blitz the kitchen.
Toodles, Ang